Erin's Exiled Children Library Tour
View the panels at the public libraries in these cities: 
March – Bozeman   contact:  Carmen Clark cclark@bozeman.net
April – Belgrade   contact: Sarah Creech screech@mtlib.org
May – Whitehall    contact: Jeannie Ferris jferriss@mtlib.org
June – Missoula    contact:  Ira Sather-Olson iraso@missoula.lib.mt.us
July- Butte     contact: Shari Curtis programming.bsbpl@gmail.com
August – Billings    contact:  Kathy Robins robinsk@ci.billings.mt.us
September – Lewistown   contact KellyAnne Terry kterry@lewistownlibrary.com or lpldirector@lewistownlibrary.org
October –Great Falls    contact:  Jude Smith jusmith@greatfallslibrary.org
To schedule the panels foranother library, contact Jo Flick before October 1,2017.
The exhibit consists of 12 one-sided panels that are approximately 30 inches wide and 85 inches tall.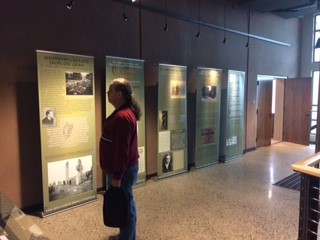 The panels do not have to be displayed in the same room, but there is a logical progression from one to the next, with a title panel leading that progression and some of the panels are paired - see suggestions for display from the designer of the panels, Aubrey Jaap, in the webinar linked below. 
The panels in the intended order are found in this pdf
View this recorded webinar for background on the exhibit and suggestions for library programs
for more information, contact  Jo Flick