Leadership
2019-20 Montana Summer Library Leadership Institute
Save the date! June 18-21 SLLI Retreat - Rising Wolf Ranch, East Glacier Park  Application DEADLINE: April 1, 2019.  Selected participants will be notified by April 9th.  
About the institute:
The 2019 Summer Library Leadership Institute (SLLI) will met June18-21  for an intensive 4-day retreat at the Rising Wolf Ranch near East Glacier Park, MT.  The institute occurs every other year and is targeted to librarians who have recently entered a leadership position, wish to advance their careers into leadership, or desire to expand their capacity as leaders. The training retreat and follow-up training events are all free - room and meals inclued.  Participants agree to complete the 9 month program and to develop and implement a project that puts their new leadership skills to work.   
SLLI  Outcomes
Institute participants will:
RECOGNIZE THEIR OWN LEADERSHIP STYLE as well as the benefits and challenges of their style, so that they can participate more productively in management teams and to effect positive change in their library and community. 
DEVELOP LISTENING & COMMUNICATION SKILLS so that they are able to INSPIRE OTHERS and collaborate toward a shared vision. 
Be CONFIDENT TO TAKE RISKS and to create an environment that is resilient in failure so that libraries and librarians are positive innovators in their communities.
PURSUE THEIR OWN LEADERSHIP DEVELOPMENT to try new things, grow, to evaluate their efforts, to view hardship, failure, or fear as a catalyst for positive change in their own lives, their libraries and communities.
Be OPEN TO CHANGE; they develop goals and a process for how to address their own leadership weaknesses and implicit biases. 
ENGAGE IN THE LIBRARY COMMUNITY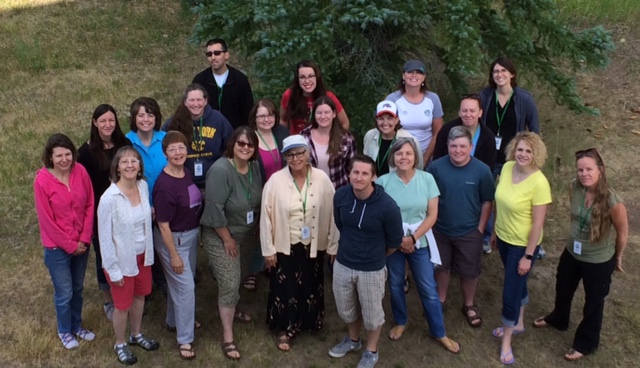 2017 Summer Library Leadership Insitute participants
These are the topics covered by the 2017 institute retreat and follow-up meetings and webinars:
listening and communication
ethics
teamwork
creativity
managing change
decision making 
self-awareness
collaboration/partnering
inspiring others
project management
analyzing community needs and library needs
research - action - evaluation: using planning models effectively
fostering a positive work environment 
becoming active in professional organizations 
Find the 2017 SLLI logic model, which lists inputs, outputs and outcomes,  by clicking here.   
For a glimpse of the projects from the 2015-16 participants, see this video. For a report of the 2017-18 projects see this story map.
The SLLI facilitators and MSL staff are committed to assuring that all SLLI participants are confident, well-tooled, and supported so that they are able to continue to collaborate and manage challenging projects that benefit their libraries and communities. Participants' projects are generally large, long-term, and challenging in scope, fulfill and align with the library's mission and advance the library's strategic goals, and meet some of the following criteria:
address the worst problems in a community;
identify and work with partners and organizations in the community and region;
utilize project management methodology;
have considerable risk for failure.
Meet the 2019 SLLI facilitator team:
Margaret Stell, librarian, St. Matthew School, Kalispell, MT
Carmen Clark, Bookmobile Librarian, Bozeman 
Gavin Woltjer, Director, Billings Public Library 
Montana State Library staff working on this event:
Jo Flick, CE Coordinator
Pam Henley & Suzanne Reymer, consulting librarians 
For more information about the 2019-20 SLLI, contact CE Coordinator, Jo Flick jflick@mt.gov