Lawyers in Libraries 2020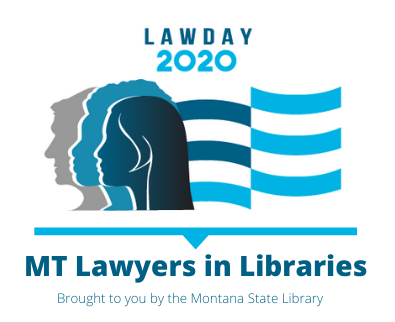 As part of Law Day 2020, Montana public libraries are participating in a statewide "Lawyers in Libraries" event where a local lawyer comes to the library to give a talk about the importance of the law in modern society, as well as to help connect patrons to legal resources. 
For Librarians:
For librarians interested in hosting this program at their library, please review:
Finding a Lawyer for the Event

The State Library is working with the Montana Lawyers magazine to find volunteer attorneys to work with libraries for this event. The State Library will try to match an attorney with each interested library, but it is not guaranteed
You are welcome to reach out to local attorneys in your community and find a volunteer that way. 

Recommended Resources to Provide to Patrons
For Lawyers:
For lawyers interested in participating in this program, please review:
Model Script and Powerpoint Presentation (coming soon!)
Legal Resources in Montana:
Outreach Materials:
Lawyers in Libraries logo

You can right click on the logo at the top of this webpage and save it to your computer to use.

Example press release (coming soon)
Lawyers in Libraries Poster (coming soon)
Law Day materials from American Bar Association

The ABA has lesson plans, activities, book club suggestions, and a variety of other programming ideas that you can use for events in your library.
Current Projects
Civic Engagement in Public Libraries
Archived Projects