Groundwater
Groundwater Use In Montana
Groundwater is an important resource in Montana, and will become more so in the future as the state's population and industries continue to grow. Groundwater provides 94 percent of Montana's rural domestic-water supply and 39 percent of the public-water supply. Every day approximately 90 million gallons of groundwater are used for irrigation, 16 million gallons to supply water for livestock, and 20 million gallons per day are used to support industry (Solley and others, 1990). Montana Groundwater Atlas (PDF)
Groundwater Use In The United States
The EPA reports that:
Nationally 53% of the population relies to some extent on groundwater as a source of drinking water. This percentage is even higher in rural areas where most residents rely on potable or treatable ground water as an economical source of drinking water.
Eighty-one percent of community water systems are dependent on groundwater.
Seventy-four percent of community water systems are small groundwater systems serving 3,300 people or less.
Ninety-five percent of the approximately 200,000 non-community water systems (serving schools, parks, etc.) are groundwater systems.
Irrigation accounts for approximately 64% of national groundwater withdrawals.
Public drinking water supplies account for approximately 19% of the Nation's total groundwater withdrawals.
Domestic, commercial, livestock, industrial, mining, and thermoelectric withdrawals together account for approximately 17% of national groundwater withdrawals.
Most frequently reported groundwater contamination sources and types by States include:
Leaking underground storage tanks. About 400,000 of an estimated 5 to 6 million underground storage tanks in the United States are thought to be leaking. About 30% of all tanks store petroleum or hazardous materials.
Septic tanks. Approximately 23 million domestic septic systems are in operation in the United States. About half a million new systems are installed each year.
Municipal landfills. Of the quarter million solid waste disposal facilities in the United States, about 6,000 are municipal solid waste facilities. Approximately 25% of these municipal facilities have groundwater monitoring capabilities.
Agricultural activities. Seventy-seven percent of the 1.1 billion pounds of pesticides produced annually in the United States is applied to land in agricultural production, which often overlies aquifers.
Abandoned hazardous waste sites. Approximately 33,000 sites have been identified as abandoned hazardous waste sites, of which 42% involve groundwater contamination.
Groundwater Maps
Related Sites
Saline Seep
Chemicals, Fertilizers, and Toxicity in Groundwater
Educational Groundwater Sites
Miscellaneous Sites
Groundwater Terms and Definitions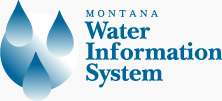 Water Information System Contact Information
Water Information System Manager
Troy Blandford
Email: tblandford@mt.gov
Additional Contact Information