NHD High Resolution (1:24K) Data Download
In partnership with the USGS, the Montana State Library is the State Steward of the National Hydrography Dataset.
Need a subset of the data or a different spatial projection or format?  Contact us
Information about the Downloadable Data
Statewide data are updated approximately annually.
An FGDC metadata XML, readme, and NHD model diagram for the statewide hydrography dataset are provided with the download (metadata are also embedded in the geodatabase).
The data are in the Montana State Plane Coordinate System (NAD_1983_2011_StatePlane_Montana_FIPS_2500_meters).
The NHD geodatabase contains a geometric network ("HYDRO_NET"), which allows the user to identify upstream and downstream paths using the Utility Network Analyst for ArcGIS.
The main advantage of downloading from this MSL page is data are provided in the Montana State Plane Coordinate System. However, if you are looking for the most recent NHD, access data through the USGS's Access National Hydrography Products page. See the "Dataset Overview Refresh" section for information on when datasets are updated.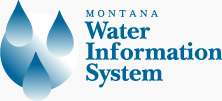 Water Information System Contact Information
Water Information System Manager
Troy Blandford
Email: tblandford@mt.gov
Additional Contact Information