Apply
Montana Talking Books offers alternative reading materials for Montana residents who cannot read standard print materials due to vision loss, physical limitation, or reading disability. To apply for this service, please open the appropriate link below, sign in with Okta, and complete the form.
Okta is the State of Montana's single sign-on solution, and is used to authenticate with multiple applications used across the State. In order to authenticate with this application, you will need to create an account with a valid email address. To get help with Okta, please visit okta.mt.gov/Help.
Applications must be complete and certified. A typed or handwritten signature is acceptable after certifying data is completed. For questions about the application process, contact Montana Talking Books at 406-444-5352 or mtbl@mt.gov
INSTITUTION APPLICATION - Institutions are facilities that serve eligible persons. Examples include assisted living facilities, hospitals, schools, colleges/universities, and public libraries.
No Story Should Go Untold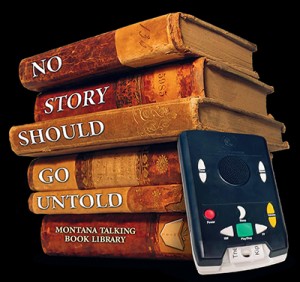 Sometimes the best words on the page aren't on the page. That's why Montana Talking Books offers high quality audio books and magazines recorded by trained narrators for your reading pleasure. Because No Story Should Go Untold.