Digital Cartridges
Book Cartridges

The new digital books (DB) are on a flash memory cartridge about the size of a cassette tape that fits into the front of the digital player. Each digital book will be on one cartridge only, and there is no need to change sides. One end of the cartridge has a round finger hole so the cartridge can easily be extracted from the player. The cartridge is inserted into the Digital player in the opening above the handle of the player. It is not necessary to rewind the cartridge before returning it to the library.
Book Shelf Function
The Digital Talking Book Machine (DTBM) contains software that allows it to read more than one book on a USB Flash Drive or a digital cartridge. To access the "Book Shelf Function" of your DTBM, insert your USB Flash Drive or digital cartridge into your player, then hold down the Play/Stop button until a beep sounds to put your player into Book Shelf Mode. Then use the Fast Forward or Rewind buttons, to the right and left of the Play/Stop button, to move from one book to another. The player will announce the title of each book.
Using USB Flash Drives
NLS patrons who have registered for the Braille and Audio Reading Download (BARD) service may download digital talking books. In order to do so, it is necessary to purchase a digital flash drive, or a blank cartridge, that will play in the NLS Digital Talking Book Machine (DTBM). Flash drives are also known as jump drives, thumb drives, or memory sticks, and they fit in the USB port located on the right hand side of the NLS players. Flash drives are available locally at most discount, electronic, or department stores, and prices will vary. Purchase a flash drive with 1G to 8G of memory; those with more memory may not work. Some brands of flash drives work better than others; look for those without built in U3 software. Brands we have found to work include: Kingston, Verbatim, Lexar, Sony, PNY, and Dane Elec. The flash drive must contain only BARD books or similar mp3 formatted files. The player will not read a drive with other file formats on it.
Purchasing Blank Cartridges
When downloading books onto your own blank cartridge, you will also need to have a special USB cable to attach the cartridge to your computer. Blank cartridges and USB cables can be purchased from the following vendors.
American Printing House for the Blind, Inc. (APH)
1839 Frankfort Avenue
P.O. Box 6085
Louisville, KY 40206-0085
(502) 895-2405
800-223-1839 (Toll-free customer service in the U.S. and Canada)
www.APH.org
Contact: Customer Service
cs@aph.org
Howell Mobility Products
717 Louis Avenue
Royal Oak, MI 48067-4603
(248) 548-1788
(248) 548-1788 Fax (call first)
www.howellmobility.com
canes@howellmobility.com
National Federation of the Blind
Independence Market
200 East Wells Street at Jernigan Place
Baltimore, Maryland 21230
www.nfb.org
(410) 659-9314, extension 2216
(410) 685-2340 Fax
IndependenceMarket@nfb.org
Perkins Products
175 North Beacon St
Watertown, MA 02472
(617) 972 7308
(617) 926 2027 (fax)
www.perkinsproducts.org, Talking Book Accessories section
adaptivetech@perkins.org
Twin Ports Low Vision Center
Duluth Lighthouse for the Blind
4505 W. Superior Street
Duluth, MN 55807
218) 624-4828 Ext. 119
(800) 422-0833 (toll free)
(218) 624-4479 Fax
http://www.lighthousefortheblind-duluth.org/lvstore/
Vistas
Braille Institute
741 North Vermont Avenue
Los Angeles, CA 90029
(323) 663-1111, Ext. 1245
(323) 663-0867 Fax
www.brailleinstitute.org
No Story Should Go Untold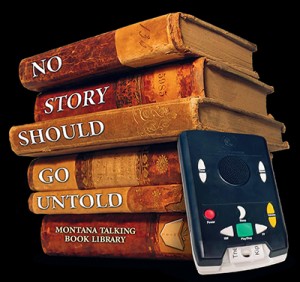 Sometimes the best words on the page aren't on the page. That's why Montana Talking Books offers high quality audio books and magazines recorded by trained narrators for your reading pleasure. Because No Story Should Go Untold.