Apply for BARD
Braille and Audio Reading Download (BARD)
BARD applications are intended for use only by patrons or institutions in good standing of the Montana Talking Books. Fill out one of the forms below if you are a registered user or have already contacted the library and were instructed to do so. If you are not currently receiving service from Montana Talking Books, please email mtbl@mt.gov or call 1-800-332-3400 (in state) or 406-444-2064.
Fill out the application completely. Library staff will check your information against their records. If you are approved to participate you will receive an e-mail message with sign-on information. If there is a problem you will receive a message explaining the problem.
If you are planning to use an NLS approved third-party digital player, in addition to or instead of the free NLS player, or you have already purchased an NLS approved third-party digital player, you must register it either on your initial application or at the time of purchase.
Please note that the information you provide will be shared with the National Library Service, Library of Congress, and with the manufacturer of your purchased digital talking-book player (if necessary). For more details, please read the privacy policy below. For BARD support, please contact Montana Talking Books.
BARD APPLICATION FOR INDIVIDUALS
BARD APPLICATION FOR INSTITUTIONS
No Story Should Go Untold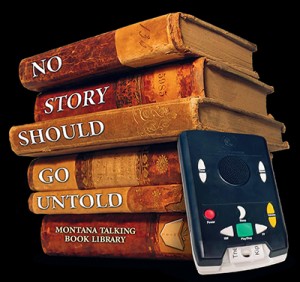 Sometimes the best words on the page aren't on the page. That's why Montana Talking Books offers high quality audio books and magazines recorded by trained narrators for your reading pleasure. Because No Story Should Go Untold.