Montana Resources
Brain Injury Alliance of Montana (BIAMT)
Address: 1280 South 3rd Street West, Suite 4, Missoula, MT 59801. Phone: 406-541-6442. Toll-free in-state phone: 800-241-6442. "BIAMT is committed to helping create a better future through brain injury prevention, research, education, and advocacy."
Disability Rights Montana
Mailing address: 1022 Chestnut Street, Helena, MT 59601. Phone: (Voice/TDD) 406-449-2344. Toll-free: 800-245-4743. Fax 406-449-2418. Email: advocate@disabilityrightsmt.org. Located at 1022 Chestnut Street, Helena MT 59601. The Mission of Disability Rights Montana is to protect and advocate for the human, legal, and civil rights of Montanans with disabilities while advancing dignity, equality, and self-determination.
Eagle Mount
Mailing Address: 6901 Goldenstein Ln, Bozeman, MT 69715. 406-586-1781. "Committed to provide quality therapeutic recreational opportunities for people with disabilities and young people with cancer, and to provide support for families of participants so that "they shall mount up with wings as eagles."
Enhanced Vision 
Manufacturer of low vision products to assist with low vision conditions. Offers low vision information, a blog, resources, grants and assistive programs to enable people to read, write and fully participate in life. 1-888-811-3161. Montana Contact: Vision Matters 1.855.325.1492, Jerry West. Email: Jerry@visionmatters.net.
Leading Edge Vision
Software, hardware and magnification products for the visually impaired. Phone: 1-887-551-6658. Provides access and information to many low vision and blindness products to visually impaired people in Montana, Eastern Washington, and Idaho. Owned and operated by Aileen Zaken for 16 years. Montana representative: Doug Robinson, dougrobinson.lev@gmail.com.
Montana Academy of Ophthalmology (MAO)  
Mailing address: 34 West Sixth Avenue, Ste. 2E, Helena, MT 59601. Phone: 406-443-1570. Fax: 406:443-1592. Email: nrgilbertson@mt.net. The MAO has a number of goals, including assuring "access to and quality of eye care for the citizens of Montana."
Montana Assistive Technology Program (MATP)
Mailing address: 700 SW Higgins Ave., Suite 250, Missoula, MT 59803. Phone: 406-243-5751. Toll Free: (877) 243-5511. Fax: 406-243-4730 Email: montech@ruralinstitute.umt.edu. MonTECH specializes in Assistive Technology for Montanans with disabilities.
Montana Association for the Blind (MAB)
Mailing Address: PO Box 465, Helena, MT 59604-4210. Phone: 406-442-9411. The purpose of the association is to work for the social and economic improvement of every blind person in the state of Montana.
Montana Association for the Blind/Summer Orientation Program (MAB/SOP)
"The Summer Orientation Program (SOP) is a non-profit program that teaches adults from Montana who have recently experienced vision loss the skills necessary to live independently and to function in their home, community, and at work. It is free of charge to residents of Montana."
Montana Blind and Low Vision Services (BLVS)
Mailing address: 111 N Last Chance Gulch, Suite 4C, PO Box 4210, Helena, MT 59604-4210. Phone: 406-444-2590 (voice/TTY). Toll-free: 877-296-1197. Fax: 406-444-3632 . BLVS provides a broad range of services through programs to assist eligible individuals with visual disabilities in finding or maintaining employment and increasing independence.
Montana Deaf-Blind Project
Mailing address: P.O. Box 202501, Helena, MT 59620-2501. Phone: 406-444-3095. Toll-free (in-state) 888-231-9393. The goal of this project is to "empower Montana's individuals with deaf-blindness, by providing them, their families and service providers an array of technical assistance and training opportunities specifically designed to meet the individual and unique needs of children and young adults 0-21 that are identified as having deaf-blindness."
Montana Office of Public Instruction (OPI)
The Adapted Illustrated Montana Driver Manual is available in audio format on the OPI Traffic Education website.  This manual was recorded by volunteers at MTBL and provided to OPI for their webite.
Montana School for the Deaf and Blind (MSDB)
Mailing address: 3911 Central Avenue, Great Falls, MT 59405. Phone: 406-771-6000. TDD: 406-771-6063/6122. Toll-free: 800-882-6732. Fax: 406-771-6164. Email: info@msdb.mt.gov. The Montana School for the Deaf & Blind provides comprehensive educational opportunities for Montana's deaf, hard of hearing, blind, and visually impaired children, giving them their best chance for independence and success. MSDB is also a statewide resource center through the Outreach Program to students attending school in their local districts.
Montana Vocational Rehabilitation Program
Address:111 North Last Chance Gulch, Suite 4C, PO Box 4210, Helena, MT 59604-4210. Phone: 406-444-2590. Toll-free phone: 877-296-1197. The mission of the organization "is to promote work and independence for Montanans with disabilities."
Montana-Wyoming Tribal Leaders Council
Mailing address: 222 North 32nd, Suite 401 Billings, MT 59101 Phone: 406-252-2550. Fax: 406-254-6355. Email: belcourt@wtp.net. This organization "provides information for Native Americans about various issues…including resources for people with disabilities."
The National Federation of the Blind of Montana (NFB)
The NFB of Montana At-Large Chapter meets by conference call each month at 10 a.m. on the second Saturday of each month. For call-in information contact the Federation by email president@nfbofmt.org, or contact Joy Breslauer, President, at 406-454-3096.
OrCam Technologies Limited
Designs and develops camera-based audio devices that use visual sensors for visually impaired and blind individuals. OrCam is a smart camera mounted on the frames of eyeglasses that translates visual items to audio.  Montana contact: Stan Mosser, Sales & Training Specialist in Minot, North Dakota, Phone: 1-701-660-3818.
OverHere Consulting
OverHere Consulting provides instruction and support for technology to visually impaired individuals served by State and Federal run agencies. OHC may also be able to provide instruction to individualswho are not affilitated with any State or Federal agencies. Office phone 406-992-0028; Ed Worrell 406-748-6822; Travis Stevenson 406-285-1216.
PLUK (Parents Let's Unite for Kids)
"PLUK represents the 30,000 families of children with disabilities and special health care needs in Montana, as well as serving as Montana's Parent Training and Information Center, the Family to Health Information and Education Center, and the Family Voices state affiliate."
VA Montana Health Care System 
Address: 3687 Veterans Drive, Fort Harrison, MT 59636
The VIST Coordinator is a case manager who has major responsibility for the coordination of all services for legally blind Veterans and their families. Duties include providing and/or arranging for the provision of appropriate treatment modalities, i.e. referrals to VA Blind Rehabilitation Centers and/or other services in order to enhance a blinded Veteran's functioning level. Other duties include identifying new cases of blindness, providing professional counseling, resolving problems, arranging annual health care reviews and conducting education programs related to blindness.  For more information on eligibility and benefits for Blind Veterans, please contact Tracey Tillinger, LCSW, VIST Coordinator at 406-447-7625.
No Story Should Go Untold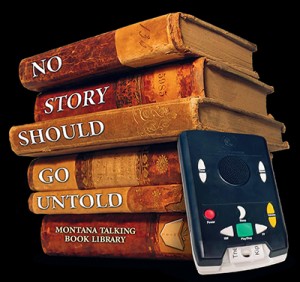 Sometimes the best words on the page aren't on the page. That's why Montana Talking Books offers high quality audio books and magazines recorded by trained narrators for your reading pleasure. Because No Story Should Go Untold.