Out-of-State Resources
American Council of the Blind (ACB)
Mailing address: 2200 Wilson Boulevard, Suite 650, Arlington, VA 22201-3354. Phone: 202-467-5081. Toll-free: 800-424-8666. Fax: 703-465-5085. E-mail:info@acb.org. ACB is a national organization of blind, visually impaired and sighted individuals whose purpose is to work toward independence, security, equality of opportunity, and improved quality of life for all blind and visually impaired people.
American Foundation® for the Blind (AFB)
Mailing address: 2 Penn Plaza, Suite 1102, New York, NY 10121. Phone: 212-502-7600. Fax: 888-545-8331. E-mail: afbinfo@afb.net. This national nonprofit's priorities include broadening access to technology; elevating the quality of information and tools for professionals (teachers, service providers in rehabilitation, O & M, low vision, and health care) who serve people with vision loss; and promoting independent and healthy living for people with vision loss by providing them and their families with relevant and timely resources.  AFB also has a webpage called Family Connect for parents of children with visual impairments,www.familyconnect.org.
American Printing House for the Blind (APH)
Mailing address: 1839 Frankfort Avenue, P.O. Box 6085, Louisville, KY 40206—0085. Phone: 502-895-2405. Toll free: 800-223-1839. Fax: 502-899-2284. E-mail:cs@aph.org. APH is an online and mail order service for low vision and blind products, including but not limited to NLS approved cartridges for downloading BARD books.
American's with Disabilities Act (ADA)
Mailing address: U.S. Department of Justice, 950 Pennsylvania Avenue, NW, Civil Rights Division, Disability Rights Section – NYA, Washington, D.C. 20530. 800-514-0301 (voice), 800-514-0383 (TTY) ADA specialists are available to provide ADA information and answers to technical questions on Monday, Tuesday, Wednesday and Friday from 10:30a.m. until 4:30 p.m. or on Thursday from 12:30 p.m. until 4:30 p.m. (Eastern Time).
Association of Blind Citizens (ABC)
Mailing address: P.O. Box 246, Holbrook, MA 02343. Phone: 781-961-1023. Fax: 781-961-0004. E-mail: president@blindcitizens.org. "The purpose of the Association of Blind Citizens is to advance relevant causes, increase opportunities in education, employment, cultural, recreational and other life activities, as well as enhance the social, political, and economic well-being for all persons who are blind or visually impaired. ABC offers publications, informative meetings, a special radio show, In Focus, as well as education, employment, recreational, and cultural opportunities to promote full inclusion in society." Also operates an Assistive Technology Fund which helps cover the retail price of devices and software.
BeMyEyes.org A free iOS app that connects blind people with volunteer helpers around the world via live video chat.  Available on the app store.
BlazeSports America 
Mailing address: 535 N. McDonough Street, Decatur, GA 30030. Phone: 404-270-2000. Fax: 404-270-2039. "BlazeSports America's mission is to empower children and adults with physical disabilities worldwide through sport, health enhancement, and the promotion of universal human rights."
Blinded Veterans Association
Toll-free phone: 800-669-7079. E-mail: bva@bva.org. This organization started after World War II and assists blinded veterans in finding local services and helping with VA claims.
Blind Childrens Center
Mailing address: 4120 Marathon St., Los Angeles, CA 90029-3584. Phone: 323-664-2153. Fax: 323-665-3828. This organization provides support services, educational and training publications, and support for research into the causes of childhood blindness.
Bureau of Engraving and Printing (BEP)
Phone: 1-877-874-4114. Email: moneyfactory.info@bep.gov. Offers free iBill Currency Readers for individuals who meet BEP's visual impairment qualifications. They also now provide the EyeNote Mobile Device App that assists the blind and visually impaired denominate U.S. currency. The app is available as a free download on the Apple App store.
Choice Magazine Listening (CML) is a free audio magazine for adults with impaired vision or other disability.  Four times a year, listeners can download or receive by mail 12 hours of great stories and articles chosen from 100 of the finest magazines, free of charge.  All CML's selections are read by some of America's top audiobook narrators.  CML subscribers include those with conditions such as low vision, macular degeneration, blindness, MS, diabetes, cerebral palsy, ALS, dyslexia, and Parkinson's.  Phone: 1-888-724-6423.
Council of Citizens with Low Vision International
Mailing address: 5707 Brockton Drive, Suite 302, Indianapolis, IN 46220-5481. Toll-free: 800-733-2258. E-mail: jim.jirak@cclvi.org. "CCLVI is an advocacy membership organization" to help people with low vision.
Described and Captioned Media Program
Mailing address: National Association of the Deaf, 1447 E. Main Street, Spartanburg, SC 29307. Phone: 864-585-1778. Phone (TTY): 864-585-2617. Fax: 864-585-2611. E-mail: info@dcmp.org. The DCMP's mission is "to promote and provide equal access to communication and learning through described and captioned educational media."
Guide Dogs for the Blind
Mailing address: P.O. Box 151200, San Rafael, CA 94915-1200. Toll-free: 800-295-4050. Fax: 415-499-4035. This organization provides intensive programs for blind persons and guide dogs.
ILA - Independent Living Aids, LLC 
Phone: 1-800-537-2118. A privately owned mail-order company for over 30 years in the United States offering products for individuals who are visually impaired or blind.
International Blind Sports Federation
This organization exists to "boost the practice of sports specifically by blind and visually impaired persons."
Learning Ally
Mailing address: 20 Roszel Road, Princeton, NJ 08540. Phone: 866-732-3585. Toll-free: 800-221-4792. Fax 609-987-8116. Founded in 1948 as Recording for the Blind, Learning Ally serves more than 300,000 K-12, college and graduate students, veterans and lifelong learners – all of whom cannot read standard educational materials due to blindness, visual impairment, dyslexia, or other learning disabilities. Learning Ally's collection of more than 65,000 digitally recorded textbooks and literature titles – downloadable and accessible on mainstream as well as specialized assistive technology devices – is the largest of its kind in the world. More than 6,000 volunteers across the U.S. help to record and process the educational materials, which students rely on to achieve academic and professional success. Learning Ally, a 501(c)3 nonprofit, is funded by grants from the U.S. Department of Education, state and local education programs.
Lighthouse International
Mailing address: 111 East 59th, New York, NY 10022-1202. Phone: 212-821-9200. Toll-free: 800-829-0500. TTY: 212-821-9713. Fax: 212-821-9707. "Founded in 1905, the Lighthouse became a pioneer in the field of Vision Rehabilitation, and is today a leading resource in helping people overcome the challenges of vision loss."
LS & S Low Vision Products
Phone:  1.800.468.4789. A catalog of products for the visually impaired and hard of hearing to provide independence, safety, and confidence.
Maxi Aids
Phone: 1-800-522-6294. Serving the blind, deaf, seniors and others with daily living products. 
Music Section, National Library Service
Mailing address: The Library of Congress, Washington, DC 20542. Toll-free: 800-424-8567. "Patrons may access a circulating collection of braille, large-print, and recorded instructional materials and a subscription program of magazines produced in braille, audio and large print."
National Association of Blind Veterans (A division of the National Federation of the Blind)
Mailing address: P.O. Box 784957, Winter Garden, FL 34778. Phone: 407-877-8668. This organization's focus is to "function as a mechanism through which blind veterans and interested sighted persons can come together to plan and carry out programs to improve the quality of life for blind veterans."
National Association of Guide Dog Users (NAGDU – A division of the National Federation of the Blind)
Mailing address: 1003 Papaya Drive, Tampa, FL 33619. Phone: 813-626-2789. "An organization for blind people who currently use guide dogs as mobility tools, those considering getting a guide dog, or those who want to learn more about the use of such dogs.
National Association for Visually Handicapped This is a national voluntary health agency founded in 1954 to provide services for the partially seeing.
National Braille Press
Mailing address: 88 Saint Stephen Street, Boston, MA 02133. Toll-free: 888-965-8965. Fax: 617-437-0456. This is a nonprofit braille publisher and supporter of opportunities for blind children.
National Consortium on Deaf-Blindness Phone: 800-438-9376. TTY: 800-854-7013. Fax: 503-838-8150. This organization is a "national technical assistance and dissemination center for children and youth who are deaf-blind."
National Eye Institute Mailing address: 31 Center Drive MSC 2510, Bethesda, MD 20892-2510. Phone: 301-496-5248. E-mail: 2020@nei.nih.gov. The NEI is part of the National Institutes of Health (the "nation's medical research agency"), researching the treatment and prevention of diseases affecting the eye.
National Federation of the Blind (NFB) Newsline Mailing address: 200 East Wells Street, Baltimore, MD 21230. Phone: 410-659-9314. Toll free: 866-504-7300. Fax: 410-685-5653. Provides free newspaper service to those who cannot read regular newsprint.
Northwest Association for Blind Athletes (NWABA) Mailing address: P.O. Box 65265, Vancouver, WA 98665. Phone: 360-448-7254. Toll-free: 800-880-9837. Fax: 800-880-9837. "We provide sports opportunities for individuals of all ages who are blind and visually impaired in Washington, Oregon, Idaho and Montana."
Read Books! Because Braille Matters  Phone:  1-800-548-7323.  A program sponsored by the National Braille Press to encourage families to think about braille literacy at the earlies possible age. Order forms available to sign up for vouchers for free braille children's books.
The Seeing Eye Mailing address: P.O. Box 375, 10 Washington Valley Road, Morristown, NJ 07963-0375. Phone: 973-539-4425. Toll-free: 800-539-4425. Fax: 973-539-0922. E-mail: info@seeingeye.org. "The Seeing Eye is a philanthropic organization whose mission is: to enhance the independence, dignity, and self-confidence of blind people through the use of Seeing Eye dogs.
No Story Should Go Untold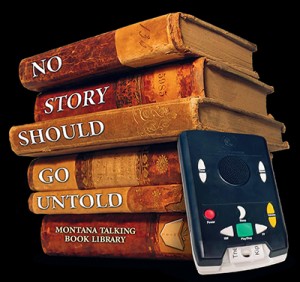 Sometimes the best words on the page aren't on the page. That's why Montana Talking Books offers high quality audio books and magazines recorded by trained narrators for your reading pleasure. Because No Story Should Go Untold.