Textbooks
Audio Textbooks
American Printing House for the Blind sells recorded textbooks, Braille and large print texts.Address:1839 Frankfort Avenue, Louisville, KY 40206; Phone: 502-895-2405 or 800-223-1839.
Bookshare sells scanned, digital audio textbooks.
Learning Ally formerly known as Recording for the Blind and Dyslexic (RFB&D), is the largest source of recorded textbooks in the United States. Address: 20 Roszel Road, Princeton, NJ, 08540; Phone: 609-452-0606 or 800-221-4792.
Large Print Books
Library Reproduction Service sells Large Print textbooks, instructional materials, reference works, and fiction. Address: 14214 S. Figueroa Street, Los Angeles, CA 90061; Phone 800-255-5002; Website: http://largeprintschoolbooks.com/ 
Special Collections
Montana School for the Deaf and Blind (MSDB) The MSDB Library provides a variety of resources and services for students with vision or hearing loss, as well as their parents, professionals, and communitites who serve these special populations locally and statewide." Address: 3911 Central Avenue, Great Falls, MT 59405; Phone: 800-882-6732 or 406-771-6000; Website:http://www.msdb.mt.gov/outreach/resource-center.html
No Story Should Go Untold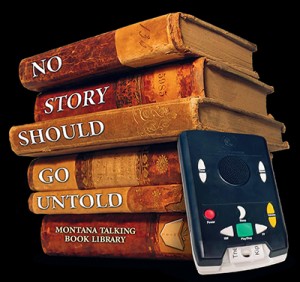 Sometimes the best words on the page aren't on the page. That's why Montana Talking Books offers high quality audio books and magazines recorded by trained narrators for your reading pleasure. Because No Story Should Go Untold.