Federal Publications
The Montana State Library participates in the  Federal Depository Library Program (FDLP) and collects natural resource materials primarily from the Department of Agriculture, Interior, Energy, and the Environmental Protection Agency. There are eleven  federal depository libraries in Montana. The  Mansfield Library at the University of Montana is the regional depository, maintaining a complete collection of federal publications.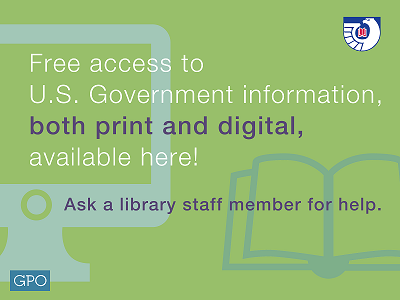 Search
Catalog of U.S. Government Publications
Metalib (searches multiple U.S. Fed databases)
GovInfo: fed publications from all 3 branches
TRAIL: Technical Report Archive & Image Library
State Library catalog
Data
Executive Branch datasets – high value, machine readable datasets.
Government databases – single source for federal databases.
Federal and state statistics from Census and Economic Information Center.
National Center for Education Statistics (NCES) is the primary federal entity for collecting and analyzing data related to education.
Literature
Federal Register - Daily Journal of the U.S. Government
Federal regulation comments – Comment on agency regulations & actions.
Science.gov – searches over 38 databases and 1,950 selected websites
Science Accelerator – searches science, including R&D results, project descriptions
Government Documents -- digitized federal documents at Internet Archive.
Congressional Research Service [CRS] Reports -- research and analysis on broad range of national policy issues.
Portals
Executive Branch sites – links to official web sites of the executive branch.
Government Printing Office Access  – US government information portal.
USA.gov  – browseable guide to federal information and services by topic.
THOMAS – current legislative activities and searchable bill database.
Research Help
Agency acronyms – acronyms for searching federal information.
Email a government librarian - online reference help.
Congress - Adroid/iOS app for tracking legislation.
FDLP LibGuides 
Govtrack.us - Tracks U.S. Congress.
Montana State Library
P.O. Box 201800
1515 East 6th Avenue
Helena MT 59620-1800
406-444-3115
TTY/TTD: 406-444-4799
mslreference@mt.gov
Hours: 8 am - 5 pm, Monday - Friday