Federal Government Information
The Montana State Library participates in the  Federal Depository Library Program (FDLP) and collects natural resource materials primarily from the Department of Agriculture, Interior, Energy, and the Environmental Protection Agency. There are eleven federal depository libraries in Montana. The Mansfield Library at the University of Montana is the regional depository, maintaining a complete collection of federal publications.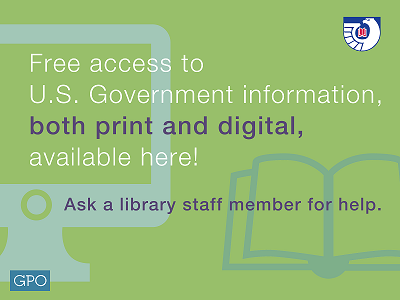 Search
Catalog of U.S. Government Publications
Metalib (searches multiple U.S. Fed databases)
GovInfo: fed publications from all 3 branches
TRAIL: Technical Report Archive & Image Library
State Library catalog
Data
Executive Branch datasets – high value, machine readable datasets.
Federal and state statistics from Census and Economic Information Center.
National Center for Education Statistics (NCES) is the primary federal entity for collecting and analyzing data related to education.
Literature
Federal Register - Daily Journal of the U.S. Government
Federal regulation comments – Comment on agency regulations & actions.
Science.gov – searches over 38 databases and 1,950 selected websites
Government Documents -- digitized federal documents at Internet Archive.
Open Data Legislation
2013  Executive Order -- Making Open and Machine Readable the New Default for Government Information 
2014 Digital Accountability and Transparency Act (DATA Act) mandated that officials publish finances in machine-readable format. Includes payments, contracts, budget actions, management reports.
2016 FOIA Improvement Act. Added a presumption of openness to all records not classified or protected. 
2019 Open, Public, Electronic and Necessary (OPEN) Government Data Act.  All non-sensitive government data shall be made available in machine-readable format by default. Agencies required to maintain data catalogs and designate chief data officer.
Portals
Executive Branch sites – links to official web sites of the executive branch.
Government Printing Office Access  – US government information portal.
USA.gov  – browseable guide to federal information and services by topic.
Research Help
(Some are non-government websites that republish government information. Listing does not imply any endorsement of their values, mission statement, etc.)
Agency acronyms – acronyms for searching federal information.
Airforce History Index - Search 550,000 historical Air Force documents. 
Email a government librarian - online reference help.
DocumentCloud - web-based software platform for organizing, researching, annotating, analyzing, and publishing primary source documents.
Environmental Working Group - Research data for a health environment.
FDLP LibGuides 
Government Attic - Electronic copies of thousands of fed govt documents obtained under Freedom of Information Act.
Govtrack.us - Tracks U.S. Congress.
OpenCorporates - Company data from public sources.
Open Payments - payments that reporting entities, including drug and medical device companies, make to covered recipients like physicians.
Open States - State legislation and other data.
Open The Books - We work to capture/post all disclosed spending at every level of government.
The Accountability Project - Curates, standardizes, and indexes public data.