Volunteer or Donate
Donations
The Montana Talking Book Library accepts donations to our library. The generosity of these donations enables us to expand on equipment and services that we could otherwise not offer. Our patrons enjoy many years of pleasure from these expanded services. When sending a donation or memorial, please include the name of the person for whom the tribute is made and the name and address of those to be notified of your gift. Acknowledgments are sent to all donors. All library donations are tax-deductible.
Send donations to:
Montana Talking Book Library
1515 East 6th Ave.
PO Box 201800
Helena, MT  59620-1800
Volunteer Opportunities
The Montana Talking Book Library (MTBL) and its six employees depend on a large group of volunteers to assist in providing excellent library services to our nearly 3,000 blind, low vision, physically and reading handicapped eligible Montana patrons. From inspecting to recording books, our service revolves around the dedication and talents of many volunteers. Training is provided for all volunteer positions. 
We have many volunteer opportunities that support the work of the Library in meeting the reading needs of our patrons. Whether you have a little or a lot of time, your willingness to provide assistance will help enhance the lives of our patrons. The library relies on volunteers to accomplish daily tasks of sending and receiving audio cassettes which we call "books" to and from our patrons. These tasks include processing of incoming and outgoing books, book inspections, repairing books, labeling cassettes and book containers, repairing books and duplicating new magazines and providing clerical support. The Telephone Pioneer volunteers, located at the library, inspect and repair each talking book playback machine. They are always in need of additional volunteers to inspect, repair and clean patron equipment. The Recording Program has many opportunities for narrating, monitoring and reviewing Montana books or books by Montana authors. Library Hours are from 8:00 a.m. until 5:00 p.m. Monday through Friday.
You can be part of this very special and important network of volunteers in Helena (and the surrounding area) by contacting Erin Harris, Volunteer Coordinator, 406-444-2064 or email eharris@mt.gov. 
Volunteer Positions
Monitor – Recording Program:
Provide quality control during a recording session. Operate computer with digital recording software, while following the narrator using a print copy of the text. Requirements for this position: Detail oriented, desire to operate a computer, ability to work as a team. No experience required; will train qualified individuals. 
Narrator – Recording Program:
Read books and magazines aloud in a recording studio. Requirements for this position: audition; pre-reading of text; willingness to research book contents in determining correct pronunciation of names, words, and symbols found in the text; and making accurate, aesthetic presentation during the recording audition session. 
Book Inspector – Circulation:
Must have the ability to open containers, compare book title and number and the number of cassettes in book to the cassettes inside the book. Rewind, place in proper places in books and if damaged read Problem List to determine what category the book fits into. 
Clerical Support:
Possible clerical opportunities include but are not limited to, Data Entry (spreadsheets, word tables, library database), Filing (alpha/numeric), Bulk Mailings, Labeling cassettes and book containers. 
Duplication of Repair Books:
Duplicate tapes from cassette masters to replace lost or damaged part of talking books. Check dubbed cassettes for sound quality. Use a high-speed one-to-three duplicator. 
Machine Cleaner:
Clean the exteriors of the Talking Book machines using gloves, cleaners and cleaning tools. 
Machine Repairperson:
Learn to repair four-track cassette machines used by low vision, blind and physically disabled patrons to play talking books. Enjoy the camaraderie of working with a group of volunteers. Some mechanical knowledge is helpful but not mandatory. 
Patron Calling:
Call patrons regarding their book service under the direction of a Readers' Advisor. Gather information needed to update patron reading preferences or remind patrons to return overdue books.
Receptionist:
Receptionist for MTBL staff. Responsibilities include but are not limited to, answering multi-line phone system; navigating library automated system; researching the internet to find collection information; photocopying; collating; data entry; type correspondence; assist with bulk mailings; mail application forms; and handle special projects when needed. 
Reviewer – Recording Program:
The reviewer's job is to insure a quality recording by following the narration of the text and listening for errors in narration, unwanted sounds, and general misrepresentation of the author's intent. The reviewer's objective criticisms are crucial to the production. The reviewer operates another computer with the digital recording software. Computer experience helpful but not necessary. 
No Story Should Go Untold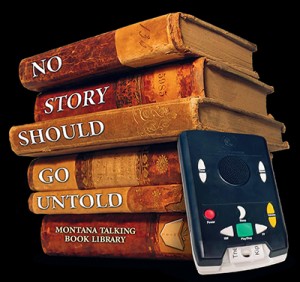 Sometimes the best words on the page aren't on the page. That's why Montana Talking Books offers high quality audio books and magazines recorded by trained narrators for your reading pleasure. Because No Story Should Go Untold.