Barcode Registry
You've heard of bridal registries, well here's something completely different, a barcode registry. No, it's not a list of Montana watering holes' postal designations! Instead, it's a list of Montana libraries, each library's unique library identifier number, and the format of barcodes used.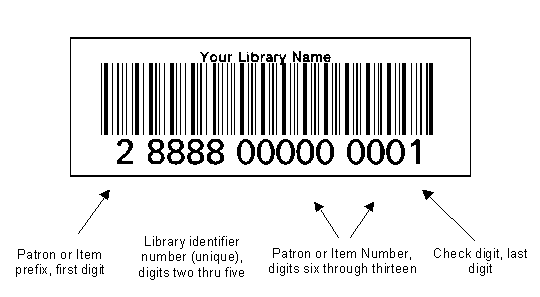 Tracking and Issuing Montana's Own Library Barcodes
As we begin to build shared catalogs and share materials between libraries by placing holds on items (instead of using interlibrary loan processes), it becomes increasingly important that each Montana library has a unique and identifiable range of barcodes. We want to avoid having the same barcode number describing two different items in the two separate, but cooperating, Montana libraries.
To ensure that each Montana library has a unique range of barcodes, MSL will keep track of the barcodes being used by libraries. You can check to see what (if anything) we know about your library's barcode scheme, or add barcode information about your library, by going to your library's entry in the Montana Library Directory. Letting us know what numbers you're using in your library will prevent us from unknowingly issuing your library's sequence to another library.
We're also issuing unique library identifier numbers to Montana libraries in the process of barcoding or (shudder) re-barcoding their collections.
Don't panic! The world will not end if your library's barcode scheme doesn't conform to this standard. Registering your library's barcode range is entirely voluntary. However, if your library is in the process of barcoding its collection, adopting this standard will help you avoid problems in the future.
Barcode Symbologies
Many Montana libraries have adopted the Codabar Mod 10 symbology for their barcodes.
Other commonly used barcode symbologies include:
Code 3 of 9 (same as Code 39)
Code 39 (same as Code 3 of 9)
Code 39 Mod 10 (info from Follett)
Code 39 Mod 11 (info from Follett)
Code 39 Mod 43 (info from Follett)
Code 4 (info from Follett)
Follett Classic (same as Follet's Interleaved 2 of 5)
Follett's Interleaved 2 of 5 (same as Follett Classic)
Follett proprietary 2 of 5
Interleaved 2 of 5 (used by Follett)
Interleaved 2 of 5 A (rarely used; info from Follett)
LabelCode IV (used with Winnebago's Apple Circulation Plus)
LabelCode V